Houshold Tanks
Tanks and Pumps

2100 Series water tanks
2100 Water Tank
4200 Water Tank
6300 Water Tank
8400 Water Tank

1450 Series water tanks
1450 Water Tank
2900 Water Tank
4350 Water Tank
5800 Water Tank

1300 Series water tanks
1300 Water Tank
2600 Water Tank
3900 Water Tank
5200 Water Tank

750 Series water tanks
750 Water Tank
1500 Water Tank
2500 Water Tank
3000 Water Tank

500 Series water tanks
500 Water Tank
1000 Water Tank
1500 Water Tank

Under Deck water tanks
550 Water Tank
650 Water Tank
900 Water Tank
1200 Water Tank

Installation
Tank Accessories
Water Tank Colours
Pumps

Truck Water Tanks
Water tanks

Ute Water Tanks
Water Tank 38L
Water Tank 50L
Water Tank 98L








Australian

Made



Dynaplas Pty Ltd
45 Wellington St
Riverstone NSW 2765
Email
Phone: +61 2 9627 5944
Fax: +61 2 9627 5959
RAIN WATER TANK
4350 LITRE POLY SLIM LINE
Quality food grade polyethylene rainwater storage tank made in Sydney complimented with leaf / insect screen and 3/4" tap. Ready to use. $1742.40 incl. GST

Area
920mm wide x
2760mm long x
2320mm tall

Call Now! 02 9627 5944

You can join them together if you need more than one.

More Colours

Pick Up from
45 Wellington Street
RIVERSTONE NSW 2765
Ph 02 9627 5944


25 Year Warranty
Here at Dynaplas we have been roto moulding tanks for over 25 years. We are very confident in our products.



Leaf Strainer

Brass 3/4" fitting

Cock valve tap.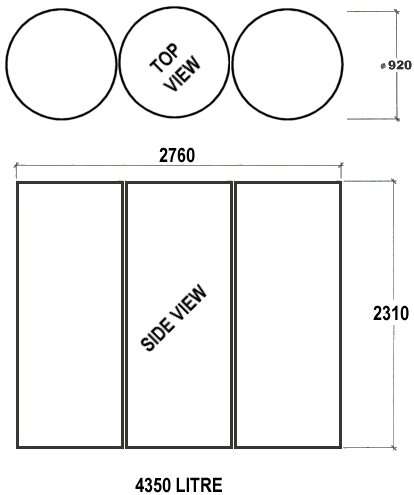 ---