Truck Mudguards
Plastic
Aluminium
Stainless Steel
Flexiguard Rubber

Mudguard Hardware
Mounting Poles
Mounting Brackets

Truck Accessories
Mudflaps
Anti Spray
Tool Boxes
Water tanks
Pallet Angles
Load Restraints


Ute Accessories
Ute Products
Sports Toolbox
Std. Toolbox
Mudguards
Water Tank 30L
Water Tank 38L
Water Tank 50L
Water Tank 69L
Water Tank 98L

Boat/Box Trailer
Mudguards

Fax order form
Email
DYNAPLAS TRUCK ACCESSORIES
SPRAY SUPPRESSANT 275mm
RIGID SPINE
The following image is the technical drawing for 275mm rigid spray suppressant.
Part # FIL-275R Available in lengths only. 1820mm (6 foot) Just by attaching this product to your truck or trailer you can reduce water spray up to 80%.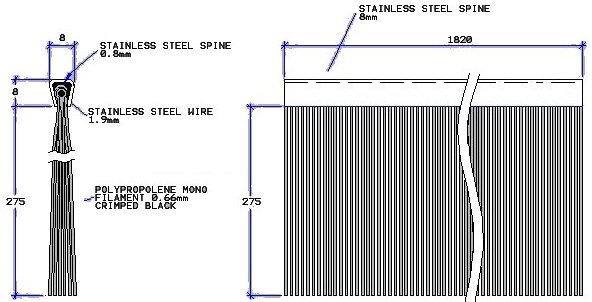 ---
FIL-075F Spray Suppressant
Flexible Spine 75mm Filament
Approx 60m coil or cut to measure
230g per metre More
FIL-075R Spray Suppressant
Rigid Spine 75mm Filament
1820mm pre cut length
0.775 Kg Length More
---
FIL-100F Spray Suppressant
Flexible Spine 100mm Filament
Approx 60m coil or cut to measure
280g per metreMore
FIL-100R Spray Suppressant
Rigid Spine 100mm Filament
1820mm pre cut length
0.87 Kg Length More
---
FIL-175F Spray Suppressant
Flexible Spine 175mm Filament
1820mm pre cut length
600g per length More
FIL-175R Spray Suppressant
Rigid Spine 175mm Filament
1820mm pre cut length
1.06 Kg Length More
---
FIL-275F Spray Suppressant
Flexible Spine 275mm Filament
1820mm pre cut length
1kg per length More
FIL-275R Spray Suppressant
Rigid Spine 275mm Filament
1820mm pre cut length
1.70 Kg Length <>More
---
---
Aluminium "H"
Spray Suppressant Clip
Part # CLIP-HA 1 More
Aluminium Long "H"
Spray Suppressant Clip
Part # CLIP-HA 2 More
---
Aluminium "F"
Spray Suppressant Clip
Part # CLIP-FA 1 More
Aluminium Long "F"
Spray Suppressant Clip
Part # CLIP-FA 2 More
---
Spring Steel "H"
Spray Suppressant Clip
Part # CLIP-HS 1 More
Spring Steel "F"
Spray Suppressant Clip
Part # CLIP-FS 1
---
Aluminium "H" Track
2.6 mtr Length
Part # TRACK-H More
Aluminium "F" Track
2.6 mtr Length
Part # TRACK-F More
---
Aluminium Rivet
4.8mm dia x 10mm
Part # RIVET-440
Stainless Washer
3/16 ID X 7/16 OD
Part # WASHER-434
---